EQUIOM staff have raised £2,800 for two local charities following a dress down day.
The staff from Equiom Trust Company Limited presented the Friends of Robert Owen House and Project 21 with £1,400 each.
The Friends of Robert Owen House is a Manx registered charity that provides a safe-haven for the relatives and carers of people from the Isle of Man who are receiving treatment at various hospitals in Liverpool.
Secretary Brian Whitehead said: "We are extremely grateful to everyone at Equiom for their support, as without the generosity of people like them we would be unable to continue our valuable work. The donation was a wonderful surprise to us and we thank them all."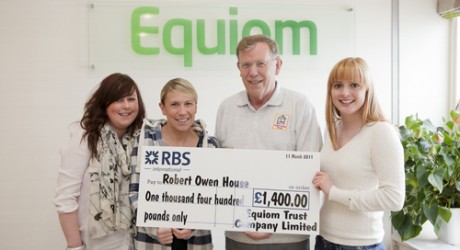 Project 21 was formed in 2002 by five charities connected to people with learning disabilities who wanted to create a purpose built building for social and recreational use for its members.
Diana O'Brien, secretary for Project 21, said: "We totally rely on the generosity of firms like Equiom and their kind donations to continue to run the centre. We are planning a number of events over the coming months and this donation will greatly help towards these and other planned events."
Sheila Dean, Equiom's managing director, commented: "I am delighted that our staff have donated so kindly and that we are able to continue to support the local community."