Britannia International, part of The Co-operative Bank, has raised an impressive £8,000 in 2011 for Manx Mencap, its chosen Charity of the Year. Colleagues at the bank's branches in Douglas, Ramsey and Port Erin raised the sum in a variety of ways, including weekly Dress Down Days, a car boot sale, bag-packing in Shoprite, a corporate karting event and a fashion show.
The money raised by Britannia International will be used by Manx Mencap to support 22 community homes on the Isle of Man, where people with learning disabilities live independently.
Sir Miles Walker, Chairman of Britannia International, presented a cheque to the Vice Chair of Manx Mencap, Di O'Brien, during an Annual Briefing event for staff.
Di praised the hard work of the fundraising team during 2011 and voiced her thanks and appreciation on behalf of the charity: "I am overwhelmed by the generosity shown by Britannia International. I can confirm that a significant part of the donation has already been spent on a Christmas Wish List, which was a list of requests received from all our Manx Mencap Community Homes and our Respite Centre. These requests represent anything that might benefit the residents of the houses, and included providing some garden furniture, a barbecue, a music centre, new cushions and curtains, craft items…and even AstroTurf to make an all-weather garden!"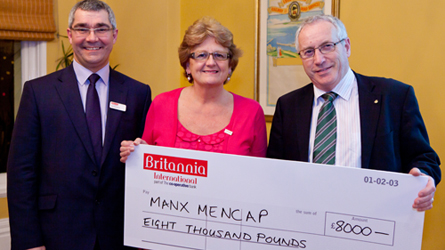 Managing Director, Mark Beresford, commented: "At Britannia International we have a very strong commitment to Corporate Social Responsibility, as does our parent company, The Co-operative Bank. I would like to thank my colleagues for their hard work and dedication in raising this wonderful sum for Manx Mencap. We set an ambitious fundraising target of £5,000 at the start of 2011 and are absolutely delighted to have surpassed this amount. Colleagues have given up their time to take part in a variety of community projects, as well as holding events such as cake sales and auctions during the year. We are very proud to support a local charity in this way."